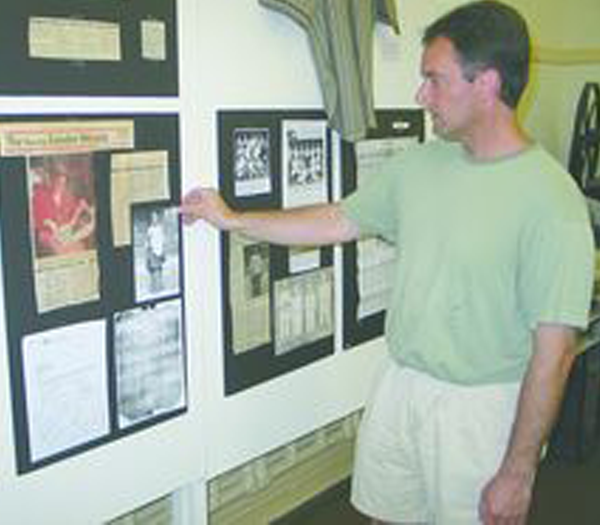 GLOVERSVILLE - City resident and sports historian Mike Hauser has amassed a collection of baseball-related materials from people and organizations near and far since 1986. He has received them from former players and local residents, and takes a great deal of pride in his collection.
But there will be no need to bug Hauser, asking him to see photos from the Gloversville Glovers 1942 squad or baseball gloves manufactured here in the early 20th century. All those hats, bats, balls and photos can be found throughout the summer and early fall right on Kingsboro Avenue.
Hauser is the curator of an exhibit, titled "From Honus [Wagner] to [Derick] Himpsl: The History of Baseball in Fulton County," that made its debut at the Fulton County Museum last month. It is the featured exhibit at the museum this season.
The exhibit, Hauser said, is intended to raise awareness of baseball's history here. The history is a long and storied one that stretches back to 1886, when the first organized baseball game was played in Gloversville.
But it is also intended to raise the public's awareness of major league players from Fulton County who Hauser said legitimately deserve induction into the Baseball Hall of Fame in Cooperstown.
He said players such as Dolgeville native Hal Schumacher, a pitcher in the 1930s for the New York Giants who once struck out baseball legends Joe DiMaggio, Lou Gehrig and Bill Dickey in the same inning in the 1936 World Series; and Gloversville native George Burns, an outfielder for the Giants who led the league in runs scored five times from 1911 to 1921, played well enough to receive the honor.
Other potential candidates include Nelliston native "Bad" Bill Dahlen and Fort Plain's Bud Fowler, who Hauser said is the first black player to play on a white team did so for a squad in New Castle, Penn. in 1878, 69 years before Jackie Robinson broke the major league baseball color barrier in 1947.
By putting together the exhibit, Hauser said he hopes to educate members of the media, who control the Hall of Fame voting, about the deserving players. He said he and others involved with the Fulton-Montgomery Sports Historical Society will be putting together information booklets and start contacting writers across the country.
"It's a tough sell, because a lot of these guys played before the 1930s," Hauser said.
The first Hall of Famers were inducted in 1936. Still, Hauser said he hopes their statistics speak for themselves.
The exhibit also is a way to remember games of years past played in the area. A 1937 exhibition game between the major league Pittsburgh Pirates and the Gloversville Glovers, who acted as a minor league affiliate of the St. Louis Browns, included the participation of five future Hall of Fame members, including Honus Wagner, whose baseball card is worth more than any other. It was played on a site that is now home to the strip mall that now houses Wal-Mart and Hannaford.
The Glovers beat the major league team, 11-8.
"It was exciting because in a small town you never went to big league games, and you never get a chance to see big leaguers," said former Glovers player Jim Armstrong, who was a spectator at that game.
Armstrong said his time with the Glovers feels like it was a long time ago-he made about $150 per month playing for the team. He took long bus trips, and was given about 75 cents for each meal.
Now, he said he is pleased to see so much history around him, some of which he donated to the exhibit himself. "It's kind of amazing, really," he said.
The Gloversville team eventually folded, a victim to television. People started watching games at home instead of having to go to see them, Hauser said, and in part because of that, the Glovers failed in 1951 and were no more.
All that is left is the history and the memories all the way up to the present day-the exhibit documents Johnstown High School graduate Derick Himpsl, who plays in the Atlanta Braves' minor league system.
"I think it's wonderful," said Museum President Joan Loveday. "I think it's a great exhibit and I think it'll bring in a quite a few people that will have an interest in baseball. I'm really surprised, myself, at the amount of people that went on to play [in the] minor and major leagues."
Hauser said he hopes to put together a similar exhibit on the history of football in the area someday soon. He said he has received plenty of memorabilia from people in the community, aside from Armstrong, and encouraged anyone with similar baseball artifacts or knowledge of old stories to come forward with them.
The exhibit will be open this month Tuesday through Saturday from noon to 4 p.m., on those same days of the week in July and August from 10 a.m. to 4 p.m. and Tuesday through Saturday in September and October from noon to 4 p.m.
Admission is free, though donations are appreciated. For more information, call Hauser at 725-5565 or visit www.tcsportspromotions.com.
Zach Subar covers rural Fulton County news. He can be reached at ruralnews@leaderherald.com.