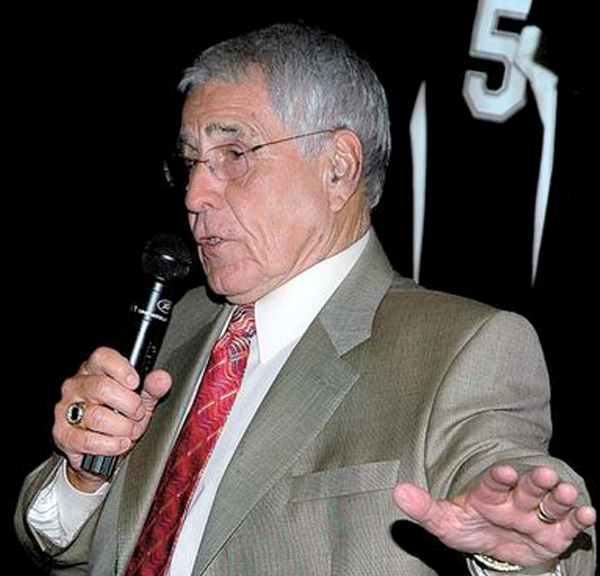 JOHNSTOWN - When Jack McKeon thinks about Gloversville he remembers the city that gave him a chance to start a career that led him to the major leagues and a World Series win in 2003 with the Florida Marlins over the New York Yankees.
"This was the place that gave me a start in baseball," McKeon said in an interview before his acceptance as one of five inaugural inductees of the Fulton County Baseball and Sports Hall of Fame.
McKeon, the oldest manager to win a World Series at 72, was the keynote speaker at the inaugural Hall of Fame induction ceremonies at the Johnstown Moose Club.
But most of all, he remembers the people.
"I think what I remember most is how nice the people were, and how well they treated the ball players," McKeon said. "Baseball was the primary form of entertainment for people living in Gloversville."
McKeon lived in a house on Yale Street and rented an extra room from a family paying about $5 a week after he came to Gloversville in 1950 to catch for the Gloversville-Johnstown Glovers.
It was with the Glovers that McKeon met left-handed pitcher John Coakley, a Washington D.C. native whose final two years as a minor-league player were spent in Gloversville.
Coakley, who settled in the area, worked for General Electric and as commissioner of the American Legion Baseball Program in Gloversville for more than 20 years. He also was inducted into the Hall of Fame.
"Of all the inductees, I only knew one. I was close to John Coakley. I came in when I was a young kid at 20 years old. He was very kind and he took me under his wing," McKeon said. "All my years in baseball, there was no better friend than John Coakley, and John we miss you, but we all knew you were a hall-of-famer all your life."
Coakley, 86, died in February, but he was the inspiration for creating the local Hall of Fame, said Mike Hauser, who is part of the Fulton-Montgomery Sports Historical Society and was instrumental in organizing Saturday's ceremonies.
"I would go out on a limb and say he is the greatest baseball person Gloversville has ever known," Hauser said.
Coakley's family accepted his plaque on his behalf.

"We do take great comfort in the fact that he did know this night was going to occur," Coakley's wife, Connie, said.
McKeon said all the inductees were "remarkable people."
"They were all winners, and they were all self motivated," he said. "They didn't wait for something to happen. They made it happen. They didn't wait for someone to raise the bar. They raised the bar."
The first inductee was "Jumpin'" Jack Johnston, a Gloversville native who started skiing at 4-years old and went on to win the 1976 Professional Freestyle Association World Championship.
He successfully defended his World Championship aerial crown in 1977 and 1978. Aerials became part of the World Cup Ski Tour in 1978 and Johnston won World Cup Gold Medals, in Pian Callao, Italy and St. Moritz, Switzerland. In 1979, Johnston took second in the World Cup in Switzerland, Italy and Canada.
But he got his start at Royal Mountain doing his first flip on the snow on a run called "The Challenge."
His career was cut short after a decline in sponsorships due to insurance issues in the sport of freestyle. He was a successful Salt Lake City, Utah, realtor, though, and modeled for Bogner Skiwear of Munich, Germany, as well as Grandoe Corporation. He was featured in a Hallmark calendar and modeled for a number of companies, including American Express.
In 1988, aerials and moguls became an exhibition sport at the Calgary Olympic Games. It wasn't until four years later it became a medal sport.
In May 1990, Johnston dove into a river in Utah and struck his head on a rock. After several surgeries he was placed in a rehabilitation center as a quadriplegic. On June 11, 1990, the day before his 34th birthday, he died of a pulmonary embolism.
Grandoe Corp. Chairman Richard Zuckerwar presented Johnston's plaque to his family. Johnston was the son of Dick and Peg of Dick & Peg's Northward Inn.
"He had a certain charisma about him," Zuckerwar said. "He walked in and it would light up the room."
Zuckerwar remembered watching Johnston on ABC's Wide World of Sports when he did three consecutive summersaults on skis.
"Our family has had great heartaches, but tonight we celebrate," Johnston's sister, Laura said.
Guests at the ceremony were given cards that displayed Johnston's two favorite poems. "To an Athlete", a poem about how youth look up to athletes, was found folded in his wallet.
Always pinned to his refrigerator was the poem "The Man in the Glass" by Dale Wimbrow, about always staying true to oneself through success.
Dave Smukler's daughter, Karen Hudson, accepted his plaque, and said she was touched by Johnston's poems as they exemplified her father.
"That is the way my dad raised me. He said just don't do anything today that will make it hard for you to look at yourself in the mirror tomorrow morning," she said.
Smukler played high school sports at Gloversville High School before a record-setting football career at Temple University, where he was a member of the Owls team that played in the inaugural Sugar Bowl.
He played football for the Philadelphia Eagles from 1936-39. Smukler was known as "Mr. Everything" for the Eagles: starting fullback, starting linebacker, single wing passer, placekicker, punter, and kick returner. During the fourth week of the 1939 season, Smukler played in the first-ever televised NFL game.
Accepting the award for Amsterdam native Robert Sise, who pitched for the Glovers in 1951 while balancing the responsibilities of a new family and law practice, was his son, Dick Sise.
During the summer of 1951, Bob Sise, nicknamed "The Clubhouse Lawyer" was a pitcher for the Gloversville- Johnstown Glovers in their final season of play in the old Can-Am baseball league.
He's also remembered as a Montgomery County Family Court Judge and for his appointment to state Court of Claims.
"Growing up baseball was always a big part of our lives," Dick Sise said. "We'd hear stories about Gloversville Glovers."
In fact, Sise had nine sons.
"He raised a baseball team," Dick Sise said.
The Master of Ceremonies for the induction was YNN Sports Anchor Joe Calderone, also a 1994 Broadalbin-Perth graduate.
"We're all part of history tonight, hopefully starting a new tradition that will last many years," Hauser said. "When we started to do this, the Moose told us 200 people would fit comfortably, and we easily surpassed this."
McKeon offered advice to the area's youth and revealed his secret to success, which includes the power of prayer.
"Attitude will determine your altitude. Respect others. Get a good education and stay away from drugs, alcohol and gangs," McKeon said. "Be persistent in following your dreams and don't ever let your dream die. There are no shortcuts to success."