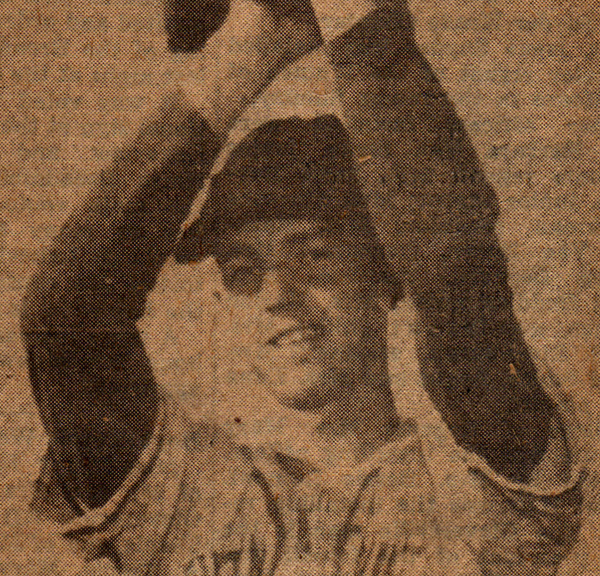 Bradley "Babe" Baldwin, a lifelong Fulton County resident, a former pro baseball player, and one of our area's greatest all-around athletes ever has been named to the Induction Class of 2014 of the Fulton County Baseball and Sports Hall of Fame.

 The 6' 4" 190-lb Baldwin was a three-sport star at Mayfield High School, lettering in baseball, basketball, and soccer in all four of his high school years before graduating in 1957. Of particular note, the fastballing righty threw eight no-hitters during his Mayfield high school career. He then attended Ithaca College, and was scouted and signed by the New York Yankees, before settling into a successful life in business.
Babe's signing by the Yankees on February 17, 1959 made headlines not only locally, but in newspapers all across Upstate New York. It was back before the Major League draft was established in 1965, so any high school or college player was a free agent. Yanks' scout Tom Kane is credited with "discovering" Baldwin, and came to Gloversville to sign the lanky and handsome phenom. Babe left Ithaca College and headed to the Yankees' minor league Spring training facility in Columbia, S.C.
The Babe looked promising in his Spring 1959 training camp and exhibition outings, and on April 19, 1959 the Bronx Bombers assigned him to the St. Petersburg Saints of the Florida State League. But Baldwin never saw action for St. Pete; almost immediately he was reassigned to the Auburn (N.Y.) Yankees of the New York-Penn (NY-P) League, just in time for Auburn's opening day, April 25, 1959. It was a fateful decision by the parent club, and one which may well have had a profound and negative impact on Baldwin's chance to succeed. Although St. Petersburg and Auburn were both Class D farm teams, the Florida State loop was somewhat more entry-level oriented, while the NY-P boasted more seasoned players. For example, of the 21 guys on Auburn's opening day 1959 roster, Baldwin was one of just six with no prior professional experience. It was possible that Babe was in over his head through no doing of his own; he quickly learned that you need more than just blazing speed to pitch successfully in the play-for-pay ranks.
His first professional appearance for Auburn was in relief against Batavia on April 30, 1959, an unfortunate foreshadowing of things to come. Babe got hit hard and was yanked after one inning: yet, he didn't figure in the final win-loss decision. Things improved in his second time on the Auburn mound: Baldwin earned both the victory and an opportunity to start. He was pencilled-in to start against Corning on May 12, 1959, but a rain-out that day pushed his big chance back one night versus Elmira. Again he was hit hard and had trouble finding the strike zone. Babe was pulled with no-decision after four-innings. Nine days later, on May 22, 1959 the Yankees released him.

And just like that, after less than a month, Baldwin's professional baseball career was over: three appearances, one win, and no losses. Unfortunately, by having signed a pro contract, Babe had forfeited his college eligibility with Ithaca. That was another bad break, because Ithaca had a powerhouse baseball program, and in 1962---what would have been Baldwin's senior year---tiny Ithaca shocked the world by going undefeated in the regular season and nearly winning the College World Series against a slew of giant D-I universities.
Given such setbacks, most athletes might have slumped into depression, or just moped around wondering 'what if.' But not Babe Baldwin. He came back home to Fulton County and started playing men's league ball in the area, simply for his love of the game. And more importantly, Baldwin resumed his education. He enrolled in the Amsterdam School of Commerce to learn business. It was a great decision and Baldwin went onto a successful career in retail sales and finance. While he's widely remembered for his success in athletics, as it turns out, Babe Baldwin's successes in the work-world and in raising a family proved to be his greatest victories
Although it was in baseball that Babe decided to go pro, there are some who will argue that baseball wasn't even his best sport. Take basketball, for example. He was a starter all four years at Mayfield High and his career point total of 1,827 set a Section II scoring record which stood until 1970. Babe averaged over 20 points a game on the Mayfield varsity as a freshman, and folks still talk about the night during his senior season when Baldwin poured in 62 points against Galway High School.
And what about golf? Baldwin was a prodigy. In 1951, while Babe was still in junior high, he reached the quarter-finals of the Fulton County Amateur Championship, defeating other golfers twice and three times his age. From that point on, Baldwin was a perennial top contender in that prestigious tournament. In fact, it was in that very tourney, when Babe was he 10th grade, that he defeated local links legend Jack Kobuskie.
Baldwin was also an excellent bowler and a champion ping pong player. Simply said, when it came to sports, the guy could do it all.
Bradley "Babe" Baldwin will be inducted into the Fulton County Baseball and Sports Hall of Fame on Saturday afternoon August 30, 2014 during the Hall's annual vintage baseball game at Parkhurst Field in Gloversville. Ironically, one of last year's most-popular Parkhurst Vintage Day standouts, former major league star Jim Bouton, was Baldwin's teammate on the 1959 Auburn Yankees. Perhaps a warm reunion is in store for 2014.