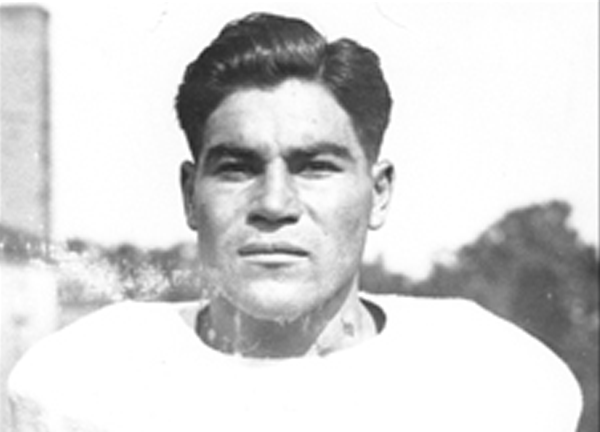 (Editor's Note: Dave Smukler is the greatest football player in Fulton County history.  He was the star of the 1930 Gloversville High School eleven, he was an All-American in college, and was one of the NFL's best players during his time in the pros.)
    
Smukler was born in Gloversville on May 28, 1914, the son of Mr. and Mrs. Morris Smukler.  But the family relocated to Newark, N.J. when Dave was young.  He spent most of his youth there and became an All-New Jersey State football honoree as a lineman in his junior year of high school.  The family returned to Gloversville in time for Smukler's senior year of high school and he truly excelled in athletics at GHS during the 1930-31 school year.  At Gloversville, he was switched from the line to fullback on the gridiron --- with great success.  Moreover, the 1930-31 GHS basketball team was the region's championship squad, and Smukler led the outfit in scoring.  In the Spring of '31, he set a state record in the shot put as a standout for the Gloversville High track and field squad. 
Following his graduation from Gloversville High School, Smukler began his college football career at the University of Missouri.  But he soon transferred east to Temple University in order to play for its legendary coach Glenn "Pop" Warner.  The esteemed Warner, by then a 40-year veteran of the coaching ranks, hailed Smukler as one of the greatest running backs he'd ever seen.  And Warner favorably compared the 6' 1" 230-pound Smukler with a pair of Hall of Fame running backs, Jim Thorpe and Ernie Nevers.  Smukler paced the 1934 Temple Owls to an undefeated regular season and a spot in the inaugural Sugar Bowl, on January 1, 1935 against Tulane.  Despite Smukler's heroics, Tulane won 20-14.  Via his running, passing and place kicking, Smukler accounted for all 14 Temple points.  Moreover, as a defensive linebacker, he recovered a key fumble in the contest.  Of Smukler's performance, famed New Orleans sportswriter Charles "Pie" Dufour wrote: "Dynamite Dave was everything he was billed to be.  He was a wild bull, a mad elephant, a rip roaring locomotive, and human battering ram.  In a word, Mr. Smukler was "great".  (He) asked nothing more of his own line but that it get out of his way, and let him run."

But as great a runner as Smukler was, he was arguably a better passer.  The Philadelphia Eagles signed him out of college and he ranked among the NFL's leading passers in each of his three full seasons at Philly.  Wearing jersey #13, Smukler was "Mr. Everything" for the Eagles in 1936, 1937, and 1938: starting fullback, starting linebacker, single wing passer, placekicker, punter and kick returner.  Despite his prowess, Smukler feuded often with the Philadelphia team owner and head coach Bert Bell.  They quarreled over Smukler's salary ($3,000 a year) and twice Bell suspended his star player for unspecified training rule violations.  During the fourth week of the NFL's 1939 campaign on October 2, 1939, Smukler's Eagles played the Brooklyn (football) Dodgers at Ebbetts Field in the first-ever televised NFL game.  Following that contest, a 23-14 Eagles defeat, the row between Bell and Smukler reached the breaking point.  Bell announced that he was permanently suspending Smukler for yet another unspecified violation.  And Smukler countered that he was quitting the game.  According to Ray Didinger and Robert Lyons, authors of The Eagles Encyclopedia, Smukler was disgusted by the Eagles lousy win-loss record from 1936-39.  They were the NFL's worst team.  "I'm fed up with the whole thing," Smukler is reported to have told the press when he quit the squad.  Didinger and Lyons write that Smukler came home to Gloversville and became a glove cutter for his  brother Louis, who operated a mill in town.  In 1940, the Eagles traded Smukler's playing rights to the Detroit Lions.  But it appears that "Dynamite Dave" never reported to Detroit.  Instead he enlisted in the Army.  Smukler served nearly four years in World War II.  Upon his discharge, he briefly returned to the NFL with the 1944 Boston Yanks.  He played in a couple of contests for Boston and then retired from the game for good.
In retirement from athletics, Smukler became a success in the business world.  He relocated to Southern California and worked for the Bridgstone Tire Company.  He ascended to the title of Bridgestone's general sales manager.  In 1969, he was inducted into the Temple University Hall of Fame.  He was also instrumental in bringing "Pop Warner Youth Football" to the West Coast and served for many years as its commissioner.

On February 22, 1971, Smukler was scheduled to fly from Los Angeles to Tulsa on a business trip for Bridgestone.  While in the Los Angeles International Airport awaiting his flight, Smukler suffered a heart attack and died.  He was 57 years old.