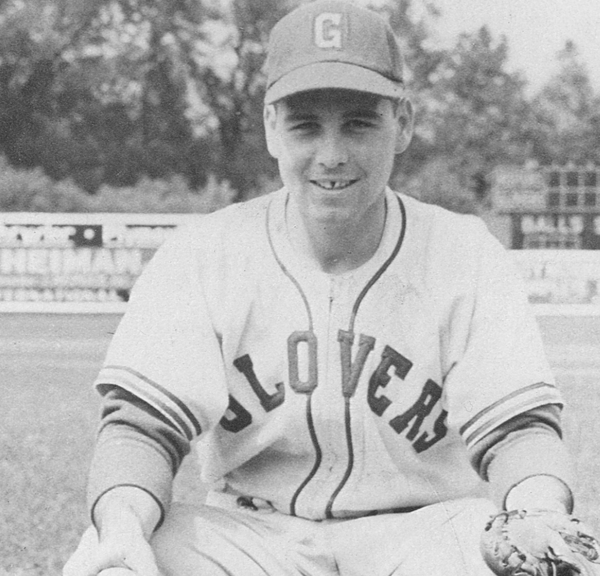 (Editor's Note: Jack McKeon has enjoyed one of the most successful managerial careers in the history of professional baseball.  He is the only skipper to have ever won more than 1,000 games in both the majors and minors.  He's managed the Kansas City Royals, the San Diego Padres, Oakland Athletics, the Cincinnati Reds, and the Maimi Marlins, twice being named as Major League Baseball's Manager of the Year, and winning the 2003 World Series with the Marlines.  The 80-year old McKeon stepped down from the Marlins head job at the conclusion of the 2011 season.  But don't call him retired.  He vows to make a comeback in 2010 at age 89 to eclipse to Connie Mack's all-time record as the oldest manager in MLB history.  Don't laugh: Marlins owner Jeffrey Loria has reportedly already agreed to let McKeon do it.  Anyways, long before Jack McKeon became a front office and managerial maven, he endured as journeyman minor league catcher with a great arm, good glove, and an awful bat.  He spent the 1950 season in Fulton County as the starting catcher for the Canadian-American League's Gloversville Glovers.  Here are his recollections of that experience.)
I began the 1950 baseball season in April with the Pittsburgh Pirates Class B farm team in York, Pennsylvania.  But I was back-up catcher at York and couldn't get playing time.  I was 19 years old and didn't want to sit on the bench.  So I went to the manager (Frank Oceak) and asked him if the organization could send me to somewhere where I could play.  He told me to wait and he'd see what he could do.  A couple of days later, he came to me and said that the Pirates could loan me to an independent team in Gloversville, New York, but that it would be a step down to Class C ball.  I didn't care about that; I just wanted to play.  So they sent me to Gloversville and a salary of $225 a month.

I arrived in Gloversville in May 1950, just before the start of the season.  My immediate impression was that it was a good baseball town with good people who appreciated the game.  I boarded in a house on the northeast end of town (Yale Street).  I was almost exactly halfway between downtown and the ballpark.  That made it convenient for me to either walk to the diner downtown , or to play at Glovers' Park.  I remember how safe Gloversville felt.  I could walk anywhere at any time of day or night, without  any problems.  My time in Gloversville was pretty routine.  All the guys on the team used to hang out every day at a coffee shop/diner downtown.  I think it was called Pedrick's.  We'd spend our nights playing.  Then it was go to sleep, wake up, and do the same thing the next day.  That's what life in the minors was like.

I was signed by the Pittsburgh Pirates organization straight out of high school.  My first season of pro ball was 1949 with Greenville of the Alabama State League.  I caught 118 of Greenville's 127 games in '49, and earned a reputation for durability.  The following year in Gloversville, I wasn't as lucky and kept getting dinged up.  One day in Pittsfield, Brook Lawrence (who'd later be an All-Star with the Cincinnati Reds) was a bat.  He hit a bloop in front of the plate and the follow-through of his bat whacked me in the back of the head.  I got knocked out and it took 10-12 stitches to close the gash.  They held me overnight in the hospital for observation.  Then we went to Oneonta for a game, and I couldn't play, so they let me pitch batting practice.  In BP, I hit our back-up catcher on the knee.  He couldn't bend it, so I had to play.  In the second inning, I took a foul ball off the mask.  Two more stitches.  Then the umpire accidentally dropped a bat on the top of my head.  Another stich.  Blood was running all over.  What a mess.  But my worst injury in '50 occurred about midseason.  I hurt my ankle trying to stretch a single into a double.  They casted it and I had to miss nearly a month.  Back then, if you got hurt, the team didn't pay you.  So they booked me a train home to South Amboy, so I could recuperate there.  But I was late to the station, missed that train, and had to leave the next day instead.  The Lord was with me.  The train that I was supposed to have been on was involved in a major munitions explosion in Jersey.  Thirty-three people were killed.  Some windows and plaster in the walls of my house were blown out by the blast.  Thank goodness I wasn't on that train.
 I only hit .218 for Gloversville in 1950, which was pretty consistent with my lifetime average.  (Note: McKeon hit a composite .210 batting average in ten seasons as a minor league player).  I never was a good hitter.  It got so that I was trying to get hit by pitches so I could take first base that way.  The 1950 Glovers were not a very good team.  (Note: The Glovers finished the 1950 season in fifth place in the eight-team Can-Am loop, a woeful 40 ½ games out of first).  The reason was simple: we didn't have enough good players.  The 1950 Glovers didn't have a major league parent club, so trying to get quality players was a constant struggle for the team.  Although we didn't have enough great players, the '50 Glovers had some pretty good guys.  The late John Coakley was very stylistic, veteran pitcher with good stuff.  And he was a dear, sweet friend.  Our second baseman Elmer Gray had talent; at age 88 he is still scouting for the Pirates.  Our best pitcher, Al Barkus, was a wonderful fella.  And we had a very good reliever in Loren Stewart.

Right after the 1950 Glovers' season ended, I enlisted in the Air Force.  The Korean War was heating up and I wanted to do my part for my country.  But instead of going to war, I ended up just playing more baseball, instead.  The Air Force had a crackerjack team playing out of the Sampson Base in Western New York.  They stationed me at Sampson, and made me player-manager.  It was my very first managerial job and kinda set my career course for the future.  Sampson played in a very good semi-pro league called the Fingerlakes League, and we used to regularly play competitively in exhibition games against pro teams like the Geneva Robins and the Auburn Cayugans of the Border League.  On the very last day of the 1951 season, I went 3 for 4 and barely won the Fingerlakes league batting title.  So for everybody who says what a lousy hitter Jack McKeon was, I tell 'em I once won a batting crown and I've got the trophy to prove it.