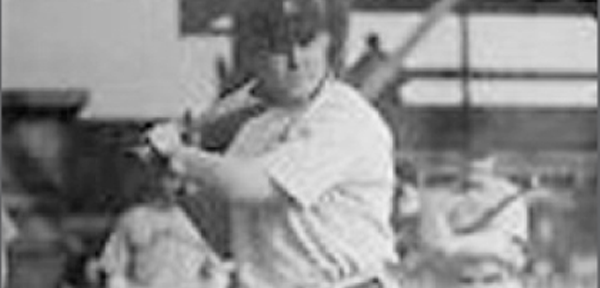 By the very end of the 19th Century, baseball buffs in the Elmira, NY area already knew that Joe Birmingham was destined for greatness. The peach-fuzzed teenager was unusually big, strong, and athletically gifted for his age. He was a star for the local Father Matthew's Catholic amateur baseball squad, playing with and against adults, some of whom were twice his age.
He then excelled at Cornell University, before coming to Fulton County in 1906 to play professionally for the Amsterdam-Johnstown-Gloversville JAGs of the New York State League.
Birmingham immediately became the JAGs' star and the fan favorite of those attending games at the franchise's brand new home, a state-of-the-art stadium on Harrison Street in Gloversville (where the present Gloversville Little League complex is located).
The speedy and strong-armed outfielder was a defensive standout, plus he led the 1906 JAGs in hitting (.303) and triples (13).
When the JAGs' season ended around Labor Day 1906, Birmingham's playing rights were purchased by Cleveland of the American League, and he was immediately inserted into the MLB team's starting line-up for the balance of the 1906 season.
Birmingham spent the next nine years in the majors, all with Cleveland. For the last four years of that stint, he also served as the team's manager. Birmingham's best MLB season as a player was 1911, when he hit .304.
His best year as a manager was 1913, when he guided Cleveland to an 86-66 record and third place in the AL. As manager, Birmingham unsuccessfully lobbied Cleveland hierarchy to bring the team to Gloversville for an exhibition game, and personally wrote a published letter of apology to Fulton County fans for the inability to bring the team to town. Birmingham's time as Cleveland manager was controversial. In 1913, he benched slumping Hall of Famer Nap Lajoie. The fiesty Lajoie, himself a former Cleveland manager who had often feuded with Birmingham, blasted Birmingham in the press, and was ultimately traded. In 1915 Birmingham benched himself as a player in order to manage Cleveland full-time.
Franchise owner Charles Somers ordered him to move the team's best player, Shoeless Joe Jackson, from outfield to first base in order to make room in the line-up for a promising rookie. Birmingham reluctantly obeyed. Twenty-eight games into the experiment, Jackson went on the disabled list with arm trouble. Birmingham publicly blamed the position change for the injury, and was promptly fired for insubordination. Birmingham returned to the minors, where he toiled as a player/coach/manger until retiring from the pros in 1921.
Respected historian Joseph Coblitz ranks Birmingham as the ninth-best centerfielder in Cleveland Indians history and Birmingham is the 23rd winningest manager in Cleveland franchise history. Joe Birmingham died in 1946.