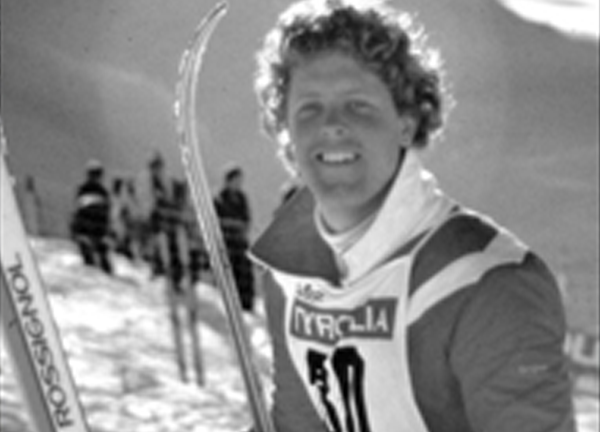 (Editor's Note: Fulton County enjoys a rich history of highly accomplished winter sports athletes.  But none has been greater than Freestyle Skier Jumpin' Jack Johnston.  The Gloversville native was a three-time Aerial Freestyle World Champion.  Jumpin' Jack was also a world class Mogul competitor was well.  While both sports are in the Olympics today, Johnston acquired his success in Aerials and Moguls before either became an Olympic Discipline.  In Aerial Freestyle, the competitors perform acrobatics off what is known as a "Kicker" which is a constructed snow ramp built to precise specifications.  The Aerialist is judged on take off and height, which is known as "Air", along with proper style, execution and precision of movement referred to as "Form" and then the "Landing".  Air makes up 20% of your score, form is 50%, and the landing is 30%.  Freestyle Moguls competition includes a course which is made up of Moguls or Bumps on a steep slope.  The competitor is judged by turns, which is based on still upper body facing downhill and just movement of knees and lower body.  Your score consists of 50% for "Turns", 25% for "Air" and 25% for "Speed".)
Jack was born in Gloversville, New York on June 12, 1956 the son of Mr. & Mrs. Richard Johnston.  Better known as "Dick & Peg", they are the proprietors' of Dick & Peg's Northward Inn of Gloversville, New York near Peck's Lake.  As a youngster, Jack began skiing at age 4 at Oak Mountain area in Speculator New York.  Jack's Mom, Peg took the ski lessons, then taught the entire family the beautiful gift of skiing.  When Jack was five, Jack's parents bought the family a trampoline.  Jack spent endless hours in his backyard on Easterly Street jumping on that trampoline.  Hence earning him his life long nickname of "Jumpin' Jack Johnston".  In Jack's early years he earned himself the title of "Boy of the Year" at the Gloversville YMCA.  It was there that Walter Lane took Jumpin' Jack under his wing and became Jack's swimming and diving Coach.  Walt VanBrocklin Jr., the Y's Physical Director supervised Jack for Gymnastic Competition.  Johnston was a gifted all-around athlete.  He swam competitively for the Gloversville YMCA's travel team, and became a renowned diver, gymnast, trampolinist and skier.  Jumpin' Jack won many local ski races, swim meets and diving events.  Watching Jack perform would literally take your breath away.  Among other sports Jack enjoyed were water skiing, racquetball, golfing and tennis…always with some fierce competitiveness with his Brother Bob.  Jack loved to hunt & fish with his Dad, who gave Jack the love of the great outdoors.  Jack loved to climb and hike mountains and rollerblade.  But Skiing and Aerial Freestyle Skiing were Jacks ultimate passions.

Jack's first flip on snow took place on a run called "The Challenge" at Royal Mountain ski area, in the town of Caroga, New York.  Jim Blaise, the owner of Royal was and still is, a real Kid promoter.  Jumpin' Jack was a Royal Mountain favorite.  Jack even built snow jumps on Baker Hill next to his home to practice after school.  He lived and breathed skiing and acrobatics.  In Jack's senior year of high school he joined the International Freestyle Skiers Association (IFSA).  Jack asked his brother Michael to be his ski manager and they set out for his first competition at Berkshire East Ski Resort in Charlmont, Massachusetts.  Jumpin' Jack won that first Aerial event with his brother Mike by his side.  Jack was 17 years old and the purse was $650 for his first place win.  When Jumpin' Jack graduated high school in 1974, his parents realized his ability for aerials, and his Father Dick built him a professional ski ramp at their summer home in Wells, New York on Lake Algonquin.  There, Jack and his fellow aerialists would practice their aerials while landing in the water.  It was a sight to see!  In the 1975-76 season is when Johnston graduated to the Professional Freestyle Association (PFA), which at the time was Freestyle Skiing's  major league.  He won his first PFA event that season at Bayrishzell, Germany.  His second PFA win came in the season-ending World Championships in April 1976 at Snowbird Resort near Salt Lake City, Utah.  That victory was broadcast on the popular television program "ABC's Wide World of Sports".  It was also featured in a documentary film entitled "Blazing Skis".  Jumpin' Jack nailed three consecutive variations of a backward double somersault to cop the win in the 1976 World Championship.

Early in his career Johnston relied on his family to help him on his way.  There were also a few special Fulton County people that stepped up to lend a helping hand and sponsored him to enable him to launch his career.  Red Kucel from Crescent Leather Finishing Co. inc (Townsend Leather), was the first to reach out, then Hal Sutliff (Gloversvile Sport Shop), Chuck Norvell (Norvell Chevrolet) and Richard Zuckerware from Grandoe Gloves.  They saw Jack's potential and wanted to help him fulfill his dreams.  Then once Jack won the World Championships, the big dogs came knocking and he scored endorsement deals for Rossignol Skis, Nordica Boots, Solomon Bindings and Bogner Skiwear.

Johnston then relocated to Utah.  At the time, the Rocky Mountains were the epicenter for Freestyle Skiing.  There he was able to train under the World Renowned Gymnastic Coach, Charlie Pond.  Jack's status in the world of professional skiing elevated from him from star to superstar.  He successfully defended his World Championship aerial crown at Heavenly Valley at Lake Tahoe, California in 1977 and attained a three-peat in 1978.  Aerials became part of the World Cup Ski Tour in 1978 and Jumpin' Jack won a pair of World Cup Gold Medals, in Pian Callao, Italy and St. Moritz, Switzerland.  In 1979, Jack took 2nd Place in the World Cup in Switzerland, Italy and Canada.  During this time, Jack had his knee reconstructed by NBA surgeon, Dr. Richard Stedman with remarkable success.  Then in 1980, Jumpin' Jack was back on top in British Columbia World Cup, with a 1st in Aerials, 2nd in Moguls and 1st Place Overall.    
But Jumpin' Jack's career was cut short because of the changing competitive environment of the sport.  There was a decline in sponsorships due to the huge insurance issues in the sport of Freestyle and Jumpin's career was forced to make some adjustments.  Johnston became a successful Salt Lake City realtor, but always kept close to and involved with the ski industry.  He modeled for Bogner Skiwear of Munich, Germany, and Grandoe Gloves of Gloversville.  Hollywood handsome, Jumpin' Jack was always a favorite subject for skiing photographers and remained so even after his competitive Freestyle career ended.  He was the model on the 1984 U.S. Ski Team's publicity poster for the Sarajevo Olympics with photographer Dirk Douglas.  He was featured in the Powder Magazines' 1987 ski calendar and the Hallmark Card's 1988 ski calendar.  His image as a Freestyle skier earned him modeling work with a number of Fortune 500 Companies, including Minolta Cameras, Midas Muffler and American Express, in addition to many ski ads and magazines.  Jack was a favorite subject for movies produced by Dick Barrymore and Warren Miller.  Jack was even featured on the television show "The Rich and Famous", helicopter Skiing.  Jumpin' Jack became a renowned tramplinist and performed regularly for the half time shows at the Utah Jazz NBA Basketball team.  He knew how to thrill a crowd and man did he! 

He never lost his passion for his beloved Freestyle and was a real supporter for Freestyle Skiing to become an Olympic Event.  In 1988, in the Calgary Olympic Games, Aerials and Moguls debuted as exhibition sport.  Freestyle didn't become a medal sport until four years later in Albertville, France.  Sadly, Jack Johnston never got to see a Freestyle Olympic Ceremony for the events which he and his daring buddies virtually invented back in the 1970's.  In May 1990, Jumpin' Jack Johnston dove into a river in rural Utah striking his head on a rock, suffering paralyzing injuries.  After several surgeries at the Salt Lake City University Hospital, Jack was placed in a Utah Rehabilitation Center as a Quadriplegic.  There Jack went through vigorous therapy to try and regain as much movement as possible.  Jack gave it everything he had, but on June 11, 1990, Jumpin' Jack Johnston died from a pulmonary embolism (a blood clot), a day before his 34th birthday.  Jumpin' Jack lived his life to the fullest…